West Coast Classic Tournament Registration
---
---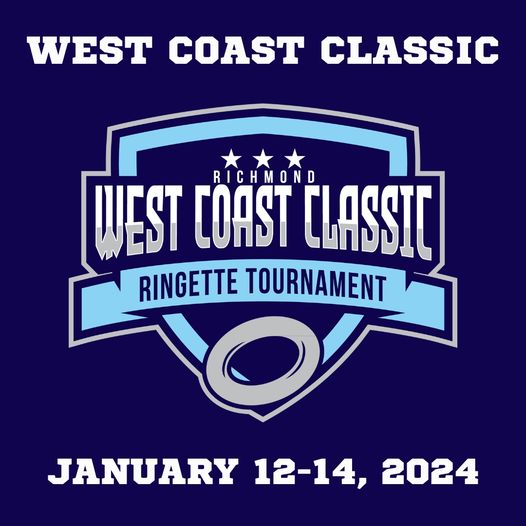 ---
Registration is now closed. Visit the Tournament website for more details.
When: Jan 12-14, 2024
Where: Richmond Ice Centre, 14140 Triangle Rd, Richmond, BC
Divisions
The tournament is open to the following divisions: U10, U12, U14A/Zone, U14B/Club, U16A, U16B, U19A, U19B, 18+A, 18+B, Masters.
We are offering all divisions U10 to Masters, a minimum of four teams for a qualified division must be registered by

October 27, 2023.

we will unfortunately have to cancel that division. Once we have all teams registered, the tournament scheduler will confirm acceptance by email on or before

November 1, 2023.

All teams U14 and above are guaranteed to play 4 games, with three teams advancing to the semi-final and final games.

U10 and U12 teams are also guaranteed to play four games in a Round Robin style format. The U10 and U12 divisions will not play semi final and final games, instead all players will receive participation medals.

Rosters must be completed by November 6, 2023, the BCRA Registration form and tiering forms by December 1, 2023 to

tournaments@richmondringette.com

In the case of Players or Teams Staff being picked up for this tournament, all BCRA pick up rules are in effect. See the BCRA policy manual. In addition, a Player or Team Staff adjustment form must be submitted with your team's registration, along with the official BCRA roster for the team in which that Player or Team staff is officially registered on.

Bench staff must have signed 2023/2024 Code of Conduct forms which will also need to be forwarded to

tournaments@richmondringette.com

Head Coach - a completed Concussion On-line Training form will also need to be forwarded to

tournaments@richmondringette.com
WCC 2024 registration is $1000 for U10 and below and $1200 for U12 and up.
Fees
U10 - $1000
U12 - $1200
Club and Zone U14 - U19 - $1200
Open A and Open B - - $1200
All applications will be accepted on a first-come basis. Some divisions will fill up early and late registrations will be put on a waiting list. While this will be the primary consideration in determining our divisions, the Tournament Committee reserves the right to incorporate other considerations in making final team selections.
Payment
E-transfer payment is accepted by payment to treasurer@richmondringette.com
E-transfer must include age category, association, team name, and a contact name and phone number. Password has to be WCC2024.
Any questions, contact tournaments@richmondringette.com